GFNY Costa Rica
July 7, 2019
Join GFNY Costa Rica on July 7, 2019 to race through lush rainforest alongside the Arenal Volcano and Lake Arenal. Expect an undulating course with several short but steep hills in tropical conditions. Besides the stunning scenery while cycling, the host town, La Fortuna, and surrounding Arenal area offer a wide range of adventure activities like hiking, canopy tours, cave explorations and more to provide a memorable adventure trip for the whole family. La Fortuna is 2:45h by car from the international airports of San Jose and Liberia.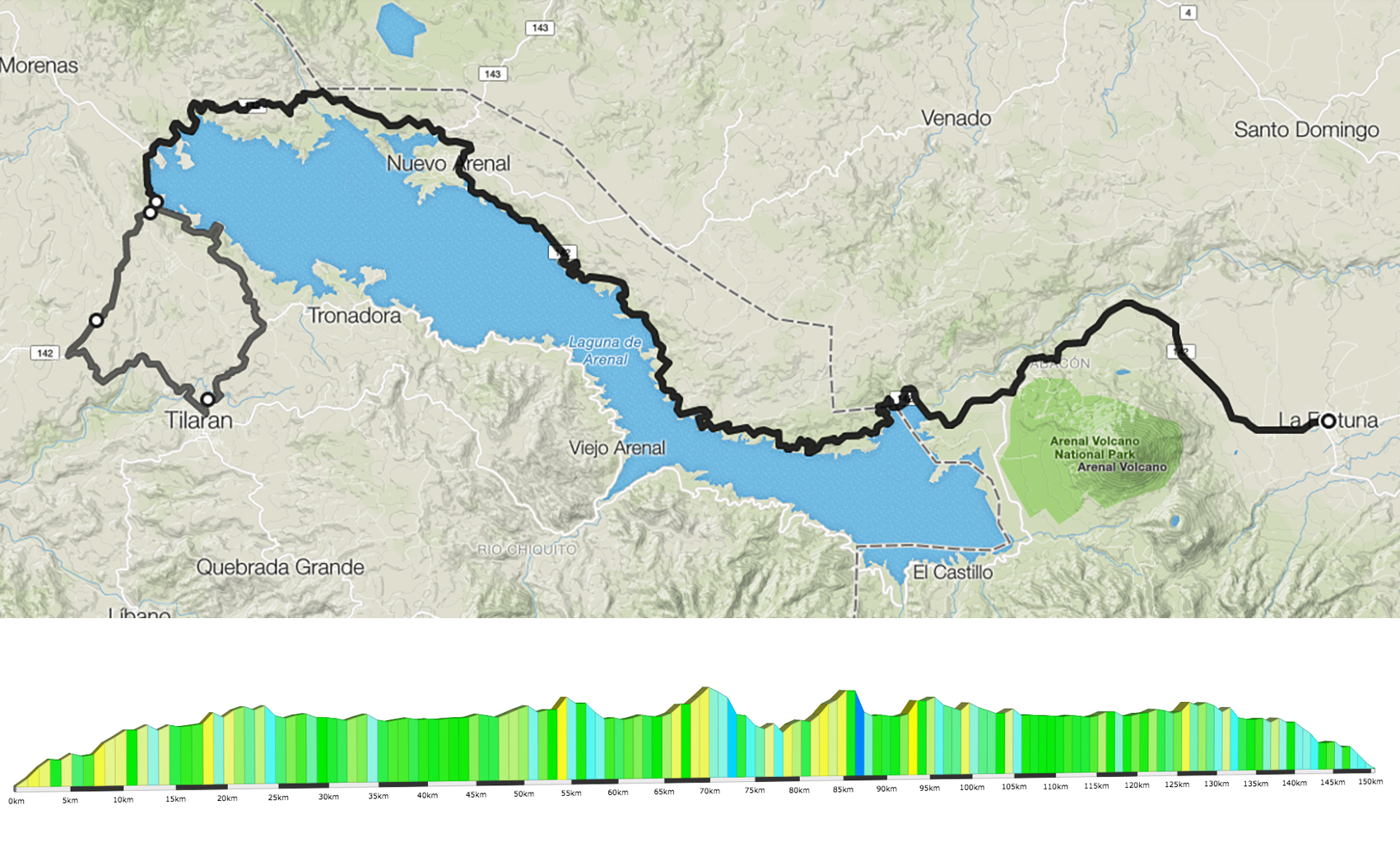 COURSE
Long distance: 150 km and 2714m of climbing
Medium distance: 92km and 1476m of climbing
REGISTRATION
Registration is open here.
TRAVEL
The host town of La Fortuna is the adventure center of Costa Rica and home to Arenal Volcano National Park. The city features a majestic landscape, with the imposing Volcán Arenal and its eternal companion, Volcán Chato, dominating the skyline. La Fortuna offers visitors a full range of tourism services and products, and is an important departure point for Caño Negro, the Venado caverns, Monteverde and other incredible destinations.
ACCOMODATION
We're currently putting travel and transportation packages together. Please check here for updates.
GFNY WORLD
At GFNY Costa Rica, the top 10% of riders in all age groups qualify for a front corral start at the Campagnolo GFNY World Championship in NYC on May 19, 2019.
CONTACT & MORE INFORMATION
gfnycostarica.com || info@gfnycostarica.com
2018
Costa Rican riders dominate at inaugural GFNY Costa Rica
2018 RESULTS
2018 PHOTOS
2018 RACER PHOTOS
The city of La Fortuna rolled out a warm welcome to riders and families at the inaugural GFNY Costa Rica last Sunday, April 22.
La Fortuna is among Costa Rica's top tourism attractions. The stunning GFNY course took place among rich, lush green trees, flowers and plants with views of the lake, windmills, various wildlife conservatories, and even a rainbow.
On a rare wet April day, the predicted typical dry tropical conditions were replaced with cooling rain and the Arenal Volcano cloaked in clouds. The conditions definitely provided an unexpected unique challenge and respite from the sun's intense rays. It was a welcome relief to cool the riders from 16 nations whose spirit never faltered throughout the day.
The first 14km was uphill. By km2, the peloton had substantially slimmed down and by km10, the lead pack consisted of 15 riders that all had the potential to take the win.
As the race developed, Adrian Bonilla attacked and found himself out alone with no support. Behind him, as riders approached the technical 1km-long gravel section, three riders, 6-time Ruta de los Conquistadores winner – Federico Ramirez Mendez (CR), Mario Rojas Espinoza (CR) and Carlos Arias (CR) made a break and chased Bonilla, eventually catching and passing in the uphill gravel section.
After completing the gravel section, Espinoza dramatically took a fall but immediately got back up and chased Mendez and Arias back down rejoining them at the front, all the way to the finish line. It was a dramatic sprint finish in the end, with Mendez edging out Espinoza by one second in a sprint finish in 4:25:51. 18-year-old Arias rounded out the podium less than a minute back.
In the women's race, Costa Rica also dominated all podium spots. In the same fashion as the men, the ladies' race ended in a sprint finish, with Marcela Rubiano edging out Natalia Navarro by one second to take the win in 5:23:33. Eunice Rojas was third in 5:37:52.