First ever GFNY Marathon was held at birthplace of endurance sports in America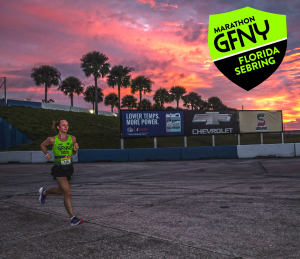 Australian Jared Mills dominates first Marathon by GFNY Endurance Sports Series
Last Sunday, October 24 marked the inaugural running event from GFNY Endurance Sports Series with GFNY Marathon Florida Sebring. 
The race couldn't have started on more symbolic grounds than on the historic Sebring International Raceway, the "birthplace of endurance sports in America".  The illuminated race track just before dawn served under ideal conditions: cloudy and 70 degrees. Runners were able to choose from a  USATF-certified GFNY Marathon or Half Marathon course as well as the Sebring 4.2-mile fun run around the Sebring International Raceway. 
As it is customary in GFNY, all runners wore the official GFNY Race Singlet. Made of high end fabrics and with latest cuts, the ultralight garment took the GFNY Team eight months to develop. No stones were left unturned to make sure no runner had to deal with any unpleasant surprises in the race.
Australian Jared Mills, who currently lives in Colombia, dominated the marathon and took the win in 2:45:13. The podium was rounded out by two Floridians, Steven Wilcox and Leland Swenson, who finished second (3:08:21) and third (3:09:59) respectively. 
In the women's competition, American Alexis Dwyer took the win in 3:43:33, followed by Panamanian Vanessa Alessan Campiolo and Giselle Lasso. 
"We're proud to have our first marathon under our belt" says GFNY CEO Uli Fluhme. "This is just the beginning of many more marathons in beautiful and fun locations, for locals and travelling runners alike, with the same high standards that cyclists have come to appreciate."
More GFNY Marathons in 2022 will be announced shortly. In the meantime, GFNY Endurance Sports Series will stay in Sebring for the second annual GFNY Florida Sebring cycling race this Sunday, October 31.
About GFNY Global Endurance Sports Series
GFNY Global Endurance Sports Series is a sports event company with three decades of experience in racing, planning and organizing events. The global endurance sports brand hosts multiple events throughout the year around the world on five continents.
Working with partners around the world to deliver a first-class experience, GFNY Global Endurance Sports Series puts their athletes first.
Cycling
20 plus events around the world. View the 2021-2022 calendar here
Riders get to BE A PRO FOR A DAY ® by competing against others, themselves and the clock in a personal endurance challenge.
Top 10% (20% at regional championships) of finishers in each age group qualify for the Racer Corral at every GFNY World event.
GFNY World Championship NYC
The 10th annual GFNY World Championship New York will be held on May 15, 2022. The race features the world's most international peloton with riders from over 90 countries. Athletes take on a challenging 100-mile route from NYC to Bear Mountain to Fort Lee to compete against each other, the clock and themselves in a personal endurance challenge.
The official GFNY website is: www.gfny.com.
Further Material for Media Use
GFNY Florida Marathon video: here
GFNY Press Images: here 
GFNY Results: here
GFNY World calendar graphic: here
Previous GFNY press releases: here
Media Contact