GFNY.cc
is the home of your GFNY account, which includes tracking your tickets, purchase receipts, results, qualification status, medal tracking, and more.
Here are answers to common questions:
Browser
GFNY.cc
is supported on Chrome, Firefox and Safari browsers.
GFNY.cc
does not work on the Internet Explorer browser.
Device
Sometimes, for unknown reasons, payments may fail on your device. If you have experienced a payment problem on your computer, please try the registration on your phone. If you are having a registration problem on your phone, please try your computer. Most registration failures were successful once the athlete changed the device they used.
Failed payment
If your payment failed, you will likely try to register once again immediately. However, our system is reserving you your ticket for 15 minutes. If you close your browser during the 15 minutes, our system still holds your attempted registration, and if that 15-minute hold hasn't ended yet, the system will tell you that you already have a ticket (which could be reserved, but not yet completed). Once the 15-minute hold on the first ticket is released, you will get an email from our system that the payment & registration had failed and to try again. If you had an unspecified registration problem the first time, we recommend to change your device or browser, which should then process the registration successfully.
Allow pop-ups
Each GFNY ticket is a held reservation for you. To make this happen, our system pops up a reserved ticket in a new window. Your browser needs to allow pop-ups, or you need to go to the top of your browser, usually near the address bar, and click to allow that specific
gfny.cc
pop up window in order to access the reserved ticket.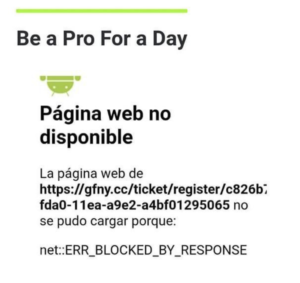 Not receiving registration confirmation email
Registration confirmation emails are sent automatically, immediately from
noreply@gfny.cc
to your email. If you did not receive an email with your ticket, please check your spam / bulk box.
Some company servers block emails from
gfny.cc
and
gfny.com
altogether. There is nothing we can do from our side to affect your company's server policies. You can contact your company's technology team and request them to whitelist
gfny.cc
and
gfny.com
but this can have hurdles and delays.
The fastest way to check your registration is to log into your
gfny.cc
account and you will see your ticket in your account.
Otherwise, please provide us a personal email like gmail, hotmail, or other. We'll update your ticket and
gfny.cc
user account to your personal email address so you are sure to receive your ticket, as well as important race communications sent from
noreply@gfny.cc
Not receiving important race information emails
In the week leading up to the race, we may send you urgent emails pertaining to the race, like an updated set of instructions, a delayed start time, modified course, or other important communication. The email comes from
noreply@gfny.cc
Some company servers, and some national servers (web.de, gmx.de, sfr.fr, alice.it, libero.it, mac.com, iCloud.com and many others) block emails from
gfny.cc
or from
gfny.com
to arrive to your inbox. You are then rightfully upset that you did not receive GFNY's time-sensitive important race communication. Please be sure to provide an email like gmail, hotmail or other similar email that does not block
gfny.cc
or
gfny.com
emails.
Check your race's facebook page regularly, especially during race week, to know any last-minute updates. Race websites provide general race information, but in case of a course modification or a 30-minute start time delay or a similar change to the event, the race website will not be updated, but an email from
gfny.cc
would be sent to all registered participants, along with a facebook posting.
If your company server is blocking emails from
noreply@gfny.cc
and you forgot your password, you have two options:
1. Create a new user account on
gfny.cc
using your personal email address (like gmail, hotmail or other).
2. Email us and we will update your
gfny.cc
account with your personal email address and delete the associated work email address, and also send you a unique, temporary password to help you reset your account password.
Refundable Booking / Refund Protect
Refunds are payable under covered reasons. Here are the Terms and Conditions of Refundable Booking: 
https://refundable.me
When filling out the form, the ID number of your policy is the Bluesnap ID from your registration.