GFNY Super Sunday with two races a continent apart
The 2nd edition of GFNY Grand Ballon – France and 4th edition of GFNY Costa Rica took place last Sunday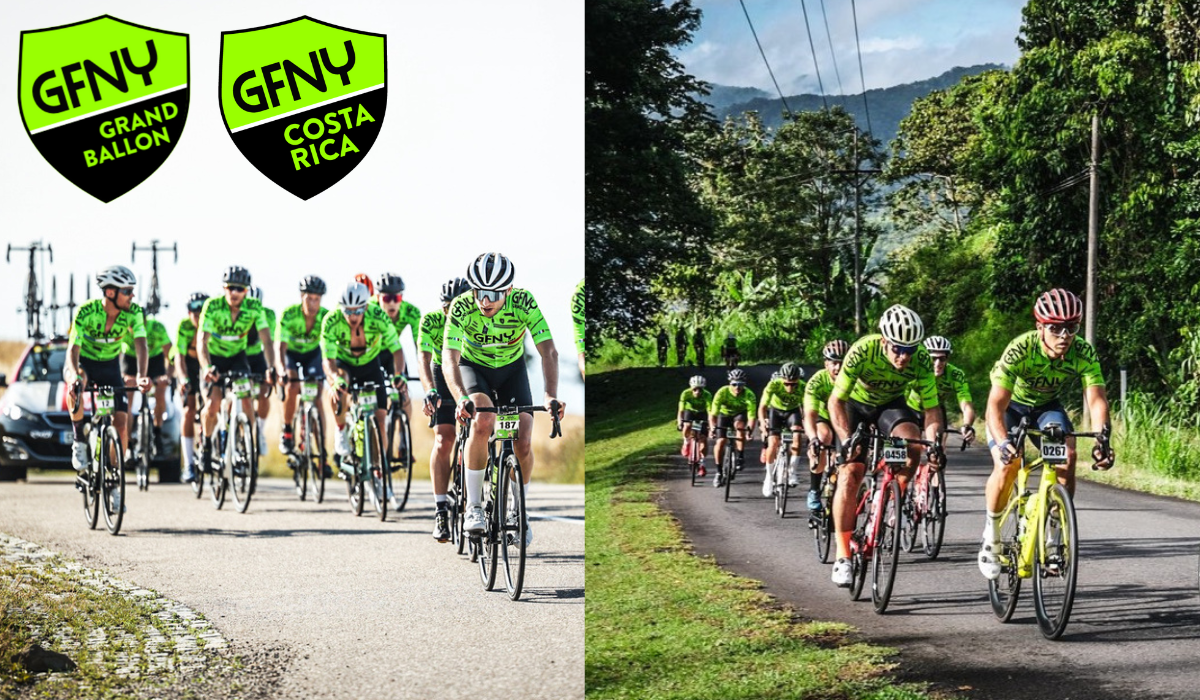 GFNY Grand Ballon
Hosted by the town of Thann, GFNY Grand Ballon offered racers a mountainous 147.3 km long course with 4060m of climbing across the beautiful Vosges mountains in summer heat.
800 riders had to tackle legendary Grand Ballon first and a lead group of 35 formed up the climb. By Col du Firstplan, the group was whittled down to nine riders, containing Belgian Frederic Glorieux (third last year), compatriot Vince Mattens who just had won GFNY Villard de Lans, French David De Vecchi and former pro 10,000m runner Lukas Eisele (Germany). 
By the time the last climb, Col du Petit Ballon, was on the menu, Glorieux and Mattens went clear from the rest of the group. On the final descent into Thann, Glorieux successfully dropped Mattens who descended with the brakes on after just having sustained a crash a few days earlier and lacking the confidence. Glorieux takes the solo win ahead of Mattens and Eisele.
In the female race, Emma Wasser won in 5:31:27, 18 minutes ahead of Hugoline Roger and Elodie Robert who completed the all French podium.
Website: grandballon.gfny.com
GFNY Costa Rica
4th GFNY Costa Rica offered riders a 145.5km long course with an elevation gain of 2868m at outdoor sports mekka La Fortuna in the Arenal volcano national park.
700 riders took on the undulating course across the jungle. Richard Zamora of Bike & Inverse took the early initiative and escaped solo. A compact group of 18 riders chased but the chase was never organized enough to close the gap. 
Richard Zamora took the win in 4:33:29 followed by Alejandro Araya and Rene Diers who completed the all Costa Rican podium.
In the female race, Ana Mendez won in 4:56:10, 14 minutes ahead of 2022 GFNY Costa Rica champion Giovanna Tanzi and Marcela Rubiano.
Website: costarica.gfny.com
Next up on the GFNY calendar is the inaugural edition of GFNY Rockford which will take place Sunday, August 6, 2023.
About GFNY Global Endurance Sports Series
GFNY Global Endurance Sports Series is a sports event company with three decades of experience in racing, planning and organizing events. The global endurance sports brand hosts multiple events throughout the year around the world on five continents.
Working with partners around the world to deliver a first-class experience, GFNY Global Endurance Sports Series puts its athletes first.
Cycling
30-plus events held around the world. View the latest calendar here
Riders get to BE A PRO FOR A DAY ® by competing against others, themselves and the clock in a personal endurance challenge.
Top 10% (20% at regional championships) of finishers in each age group qualify for the Elite Qualifier Corral at every GFNY World event.
GFNY World Championship NYC
The 12th annual GFNY World Championship New York will be held on May 19, 2024. The race features the world's most international peloton with riders from over 90 countries. Athletes take on a challenging route to compete against each other, the clock and themselves in a personal endurance challenge.
The official GFNY website is: www.gfny.com.
Further Material for Media Use
Official GFNY Grand Ballon video: here
Official GFNY Costa Rica video: here
GFNY Press Images: here 
GFNY Results: here
GFNY World calendar graphic: here
Previous GFNY press releases: here
Media Contact
Gran Fondo New York Inc.
Tags: Europe, LatAm, North America