Spectacular GFNY Chile tackles Muro de Tunquen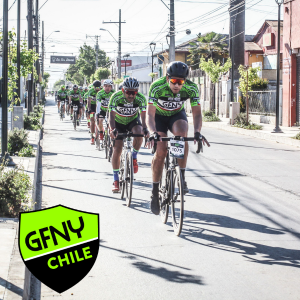 A spectacular 3rd edition of GFNY Chile closed out the GFNY 2021 race season
Riders started from Viñedos Veramonte close to Casablanca just outside the capital Santiago de Chile. The 140 km long course from Chile's central valley with its beautiful vineyards to the Pacific Ocean and back included the infamous 27% steep Muro de Tunquen. 
Two hours into the race, Chilean Adrian Alvarado Teneb attacked and persisted at "El Tunquen", ultimately taking the win in 3:27:45 with a near-4 minute lead. The all-Chilean podium was completed by Bastian Felipe Villagra Fuenzalida and Andres Tagle, who finished 2nd and 3rd respectively. Foreign riders had a difficult time getting to the race due to strict local quarantine laws.
In the women's competition, Chilean Aranza Valentina Villalon Sánchez proved herself by finishing in a time of 3:32:06, a whopping 17 minutes ahead of second woman Carolina Acosta. Fernanda Paola Subiabre Subiabre (Chile) rounded out the podium. 
With their overall wins, both champions won a VIP entry at the GFNY World Championship in New York City on May 15, 2022. Having shown what they're made of with the climb up to Tunquen, they will be faced with a longer course and a mellower climb, but with incredibly tough competition. 
"The riders were so happy to finally have their GFNY Chile back," says GFNY President Lidia Fluhme. "It's been a long wait due to the pandemic but now it's spring in Chile and things are looking up." 
"Having raced the first edition myself, I can highly recommend to anyone to take a trip to Santiago de Chile to race GFNY. The area provides an incredible mix of Pacific Ocean, vineyards and the high Andes."
About GFNY Global Endurance Sports Series
GFNY Global Endurance Sports Series is a sports event company with three decades of experience in racing, planning and organizing events. The global endurance sports brand hosts multiple events throughout the year around the world on five continents.
Working with partners around the world to deliver a first-class experience, GFNY Global Endurance Sports Series puts their athletes first.
Cycling
20 plus events around the world. View the 2021-2022 calendar here
Riders get to BE A PRO FOR A DAY ® by competing against others, themselves and the clock in a personal endurance challenge.
Top 10% (20% at regional championships) of finishers in each age group qualify for the Racer Corral at every GFNY World event.
GFNY World Championship NYC
The 10th annual GFNY World Championship New York will be held on May 15, 2022. The race features the world's most international peloton with riders from over 90 countries. Athletes take on a challenging 100-mile route from NYC to Bear Mountain to Fort Lee to compete against each other, the clock and themselves in a personal endurance challenge.
The official GFNY website is: www.gfny.com.
Further Material for Media Use
GFNY Chile video: here
GFNY Press Images: here
GFNY Results: here
GFNY World calendar graphic: here
Previous GFNY press releases: here
Media Contact
Gran Fondo New York Inc.