Sprint finish at Ford GFNY Monterrey last Sunday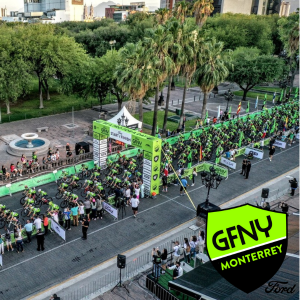 Miguel Arroyo took the win in the male race while Team Pato Bike dominated female race 
New York City, June 7, 2022 – A head to head sprint decided the male race at the 4th Ford GFNY Monterrey after 137km of racing with an elevation gain of 1549m and a hilltop finish on iconic Chipinque.
Under clear skies and very hot temperatures, the race started out fast on Monterrey's city highways with speeds hitting over 60kph. After a string of attacks from the gun, it was at km 50 when a group of eight riders successfully got away from the peloton.
On the final ascent of Chipinque to the finish line, two riders took the lead, climbing at 25kph: Miguel Arroyo and Miguel Angel Herrera (both from Mexico) fought tooth and nail to shake each other.  At the end it was Arroyo who took the win in a tight sprint finish in 2:52:43. Tomas Aguirre rounded out the all Mexican podium three minutes behind the leaders.
In the female race, Team Pato Bike dominated by taking the first four spots. The team worked together until the final climb up Chipinque, where Marcela Prieto climbed the fastest to win in 3:02:23. Karen Loren Villamizar Varon and Paola Macias Estrada rounded out the team podium.
Next up on the GFNY calendar is a Super Sunday: the inaugural races GFNY Lourdes Tourmalet and GFNY Ann Arbor – Michigan take place this Sunday, June 12, 2022.
Website: monterrey.gfny.com
About GFNY Global Endurance Sports Series
GFNY Global Endurance Sports Series is a sports event company with three decades of experience in racing, planning and organising events. The global endurance sports brand hosts multiple events throughout the year around the world on five continents.
Working with partners around the world to deliver a first-class experience, GFNY Global Endurance Sports Series puts their athletes first.
Cycling
30 plus events around the world. View the 2022 calendar here
Riders get to BE A PRO FOR A DAY ® by competing against others, themselves and the clock in a personal endurance challenge.
Top 10% (20% at regional championships) of finishers in each age group qualify for the Racer Corral at every GFNY World event.
GFNY World Championship NYC
The 11th annual GFNY World Championship New York will take place on May 21, 2023. The race features the world's most international peloton with riders from over 90 countries. Athletes take on a challenging 100-mile route from NYC to Bear Mountain to Fort Lee to compete against each other, the clock and themselves in a personal endurance challenge.
The official GFNY website is: www.gfny.com.
Further Material for Media Use
Official GFNY Monterrey Video: here
GFNY Press Images: here 
GFNY Results: here
GFNY World calendar graphic: here
Previous GFNY press releases: here
Media Contact
Gran Fondo New York Inc.
Tags: LatAm, North America