3000 riders tackle 8th GFNY Cozumel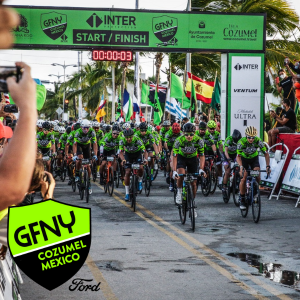 GFNY Global Endurance Sports Series is back in Mexico with a sold out race at GFNY Cozumel, sponsored by Ford.
This weekend, the 8th edition of GFNY Cozumel will be held with a sold out field of 3000 riders flooding to the beautiful island. GFNY Cozumel is the largest bike race in the Americas south of NYC because it combines exciting racing with a spectacular vacation like arguably no one else can. 
The competitive long course of 100 miles is two hot and windy, yet pancake flat laps around the coastline of Cozumel. This includes 30 miles of picturesque turquoise ocean views on the uninhabited east coast of the island, a road that can rival any other in beauty. 
The pre-race group ride on Saturday will be led by ex-pros Raúl Alcalá (PDM and Motorola) and Luis Lemus (Isreael Cycling Academy). This ride is larger than many granfondo events. 
"'Come for the race, stay for the fiesta' is undoubtedly the draw of GFNY Cozumel," says GFNY CEO Uli Fluhme. "On paper, it's a flat two loop course. In reality, it's a thrilling race wrapped in a week-long party that only Latin Americans can throw. Europe might have the classic climbs but ask any European who's made the trip to GFNY Cozumel and they will get a sparkle in their eyes. You have to experience it for yourself to fully grasp it."
About GFNY Global Endurance Sports Series
GFNY Global Endurance Sports Series is a sports event company with three decades of experience in racing, planning and organizing events. The global endurance sports brand hosts multiple events throughout the year around the world on five continents.
Working with partners around the world to deliver a first-class experience, GFNY Global Endurance Sports Series puts their athletes first.
Cycling
20 plus events around the world. View the 2021-2022 calendar here
Riders get to BE A PRO FOR A DAY ® by competing against others, themselves and the clock in a personal endurance challenge.
Top 10% (20% at regional championships) of finishers in each age group qualify for the Racer Corral at every GFNY World event.
GFNY World Championship NYC
The 10th annual GFNY World Championship New York will be held on May 15, 2022. The race features the world's most international peloton with riders from over 90 countries. Athletes take on a challenging 100-mile route from NYC to Bear Mountain to Fort Lee to compete against each other, the clock and themselves in a personal endurance challenge.
The official GFNY website is: www.gfny.com.
Further Material for Media Use
GFNY Cozumel video: here
GFNY Press Images: here 
GFNY Results: here
GFNY World calendar graphic: here
Previous GFNY press releases: here
Media Contact
Gran Fondo New York Inc.