Uruguayan cycling marks its comeback with GFNY Colonia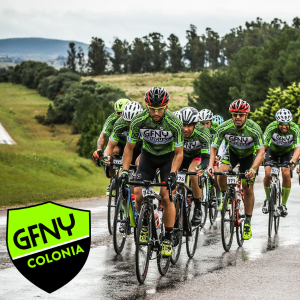 GFNY Global Endurance Sports Series is back in Uruguay with a new race in Colonia del Sacramento
After not having been able to hold races in Uruguay due to the pandemic, GFNY is back with two races in Uruguay. The first race being this weekend, with GFNY Uruguay – Colonia del Sacramento. 
The South American race offers a long, competitive route of 148km long with an elevation of 1122m, as well as a non-competitive medium route of 87km which features 676m of elevation. Both courses share the first 45 km through olive groves, vineyards and cattle country. 
The topography does not impose decisive climbs, forecasting a compact peloton through a good part of the race – and a fast race as such. The usual winds of the Uruguayan coastline may be of key importance on the outcome.
"Back in 2016, we were breaking ground in Uruguay by holding the first ever cycling marathon in the country with GFNY Punta del Este," says GFNY President Lidia Fluhme. "We're impressed that the team headed by Andres Borras and Nestor Pinon has doubled down and now also offers a GFNY in Colonia that is the dearly needed spring season opener 'down under' after the dark pandemic months."
About GFNY Global Endurance Sports Series
GFNY Global Endurance Sports Series is a sports event company with three decades of experience in racing, planning and organizing events. The global endurance sports brand hosts multiple events throughout the year around the world on five continents.
Working with partners around the world to deliver a first-class experience, GFNY Global Endurance Sports Series puts their athletes first.
Cycling
20 plus events around the world. View the 2021-2022 calendar here
Riders get to BE A PRO FOR A DAY ® by competing against others, themselves and the clock in a personal endurance challenge.
Top 10% (20% at regional championships) of finishers in each age group qualify for the Racer Corral at every GFNY World event.
GFNY World Championship NYC
The 10th annual GFNY World Championship New York will be held on May 15, 2022. The race features the world's most international peloton with riders from over 90 countries. Athletes take on a challenging 100-mile route from NYC to Bear Mountain to Fort Lee to compete against each other, the clock and themselves in a personal endurance challenge.
The official GFNY website is: www.gfny.com.
Further Material for Media Use
GFNY Colonia video: here
GFNY Press Images: here 
GFNY Results: here
GFNY World calendar graphic: here
Previous GFNY press releases: here
Media Contact
Gran Fondo New York Inc.