Argentinian Azzem takes the win at first GFNY Colonia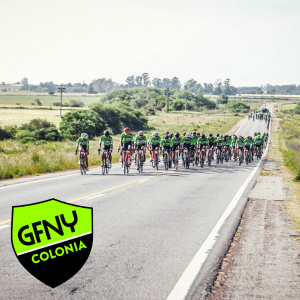 GFNY Colonia del Sacramento decided in strong quartet sprint to the finish line
Last weekend marked a comeback of GFNY in Uruguay with the first GFNY Colonia del Sacramento. Beautiful sunny weather and unusual calm winds blessed the race that offered a long, competitive route of 148km with 1122m of elevation. 
Already 32k into the race things got pretty heated at the San Juan river and its 3k long 5%-incline climb to Repecho del Pelado.  The front peloton dropped to 20 riders, from which only 15 reached the turning point at beautiful Carmelo, home to vast vineyards, blooming olive groves and luxurious country homes. 
During the last 20k, attacks began for real with only the four strongest of the pack remaining: Argentinian Omar Salim Azzem, ex-pro and local Jorge Bravo, as well as Uruguayans Ivo Weickert and Carlos Pedrozo managed to drop the others and the quartet stayed together until 3k to go.
The Flamme Rouge determined a first long-range attack from Weickert, which only Azeem could follow who then had more in the tank to sprint to win the inaugural GFNY Colonia 2021 in a time of 3:37:41. Weickert finished as close second in 3:37:44. Pedrozo closed out the podium. 
In the women's competition, Cecilia Caiballet (Argentina) took the win in 3:55:29, with a dominating 13-minute lead to Uruguayan Romilda Porrino. Madelon Gonzalez (Uruguay) rounded out the podium. 
With their overall wins, both champions won a VIP entry at the GFNY World Championship in New York City on May 15, 2022, where they will face much stiffer competition on a decidedly more challenging course.
"The riders were extra happy," said GFNY Uruguay co-owner Nestor Pinon. "It was great to be able to offer GFNY racing again in Uruguay after the pandemic. There is no better way to kick off spring and a great year of bike racing. We already look forward to hosting the GFNY South America Championship at our end of season in March in Punta del Este."
GFNY Endurance Sports Series will stay in LatAm for the last race of 2021 with the 3rd edition of GFNY Chile this Sunday, November 14.
About GFNY Global Endurance Sports Series
GFNY Global Endurance Sports Series is a sports event company with three decades of experience in racing, planning and organizing events. The global endurance sports brand hosts multiple events throughout the year around the world on five continents.
Working with partners around the world to deliver a first-class experience, GFNY Global Endurance Sports Series puts their athletes first.
Cycling
20 plus events around the world. View the 2021-2022 calendar here
Riders get to BE A PRO FOR A DAY ® by competing against others, themselves and the clock in a personal endurance challenge.
Top 10% (20% at regional championships) of finishers in each age group qualify for the Racer Corral at every GFNY World event.
GFNY World Championship NYC
The 10th annual GFNY World Championship New York will be held on May 15, 2022. The race features the world's most international peloton with riders from over 90 countries. Athletes take on a challenging 100-mile route from NYC to Bear Mountain to Fort Lee to compete against each other, the clock and themselves in a personal endurance challenge.
The official GFNY website is: www.gfny.com.
Further Material for Media Use
GFNY Colonia video: here
GFNY Press Images: here
GFNY Results: here
GFNY World calendar graphic: here
Previous GFNY press releases: here
Media Contact
Gran Fondo New York Inc.