GFNY Chile racers to tackle infamous Muro de Tunquen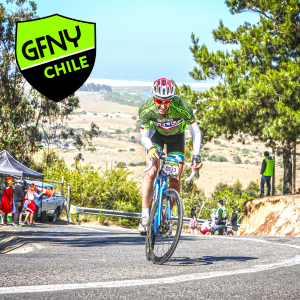 1000 riders will tackle the 27% monster climb that became viral in 2018
After a two year hiatus due to the pandemic, the 3rd edition of GFNY Chile is expecting 1000 riders. Start and finish of the race will be at Viñedos Veramonte close to Casablanca just outside the capital Santiago de Chile.
The race offers a long, competitive route of 140 km and a non-competitive medium route of 80 km. Chile's central valley with its beautiful vineyards is the heart of the course. The route crosses Casablanca and will take riders to the Pacific Ocean. From there, they have to tackle the Muro de Tunquen: a now world-famous 27% steep climb up to El Tunquen that went viral in 2018. The video of riders zig zagging up is still making the rounds. The race won't be won there but can certainly be lost. And any finisher will have to get up El Tunquen, in the saddle or on foot, whatever it takes.
"I've raced all over the world but nothing compares to El Tunquen" says GFNY President Lidia Fluhme. "With GFNY Chile we have a race in this beautiful vineyard setting, just outside the amazing Santiago de Chile. And then there is this beast of a climb that costs 100% of your energy and concentration to get up. A few guys around me had to walk, most were zig zagging across the road. What a challenge!"
About GFNY Global Endurance Sports Series
GFNY Global Endurance Sports Series is a sports event company with three decades of experience in racing, planning and organizing events. The global endurance sports brand hosts multiple events throughout the year around the world on five continents.
Working with partners around the world to deliver a first-class experience, GFNY Global Endurance Sports Series puts their athletes first.
Cycling
20 plus events around the world. View the 2021-2022 calendar here
Riders get to BE A PRO FOR A DAY ® by competing against others, themselves and the clock in a personal endurance challenge.
Top 10% (20% at regional championships) of finishers in each age group qualify for the Racer Corral at every GFNY World event.
GFNY World Championship NYC
The 10th annual GFNY World Championship New York will be held on May 15, 2022. The race features the world's most international peloton with riders from over 90 countries. Athletes take on a challenging 100-mile route from NYC to Bear Mountain to Fort Lee to compete against each other, the clock and themselves in a personal endurance challenge.
The official GFNY website is: www.gfny.com.
Further Material for Media Use
GFNY Chile video: here
GFNY Press Images: here
GFNY Results: here
GFNY World calendar graphic: here
Previous GFNY press releases: here
Media Contact
Gran Fondo New York Inc.