How to Reach Your Goals at GFNY Florida Sebring
 
by GFNY's resident pro, Matthias Van Aken
Set Your Goals and Start Planning Your Race Now
Believe it or not, GFNY Florida is just around the corner! Don't worry, we've got you covered no matter what your goal is. Whether you are looking to break the 4-hour mark, challenge yourself to beat the 5-hour mark, or just put in a huge closing effort to the 2020 season, you'll need to train hard and think the race through to meet your goals. Remember, your finish time will be the outcome of your training. Know yourself and know how well you have trained, and plan accordingly.
But remember – no matter what your cycling goal is, racing at GFNY Florida will mean fun in the sun and the authentic Floridian experience.
Set in the City of Sebring, Florida, the beautiful lakes, wildlife, and rows of Orange groves will be a constant reminder throughout the course that you are in the Sunshine State. The Sebring International Raceway – home to racing enthusiasts and auto-racing professionals from all over the world for over 70 years, will remind you that you are here to race.
So let's get to it! The guidelines below will get you familiar with the course, and where and how you want to make your moves and plan your day to meet your goals.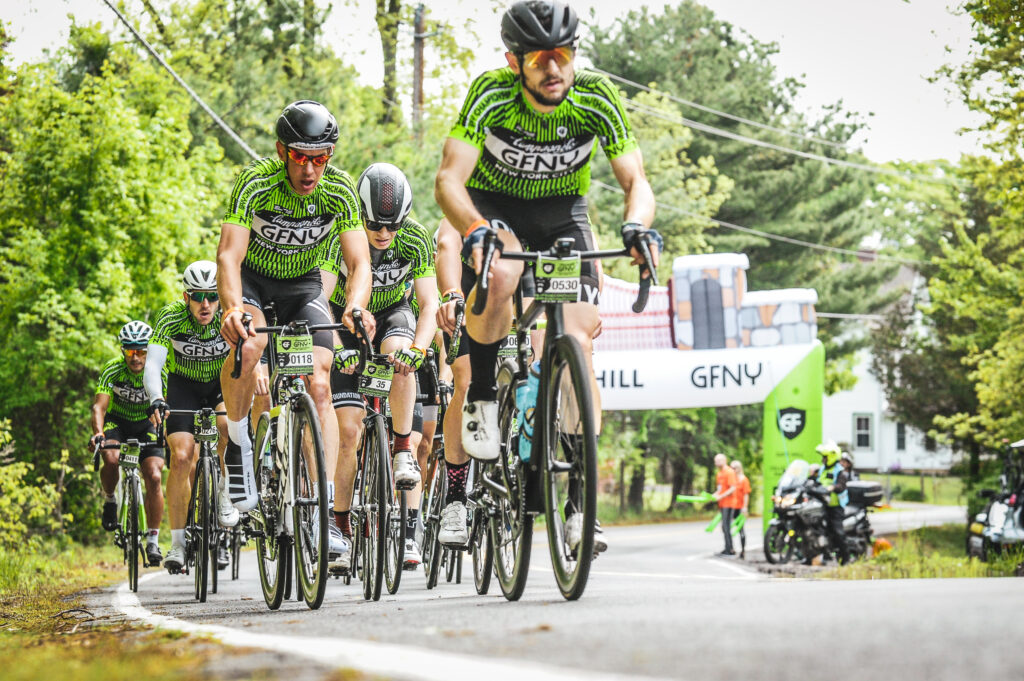 Finish GFNY Florida in less than 4 hours – get to the front, and hang on!
If your goal is to finish GFNY Florida in less than 4 hours, you will need to get out with the front group from the start, and be ready to stay with that front group all day. Have a look at the course map below. When you look closely at the map and elevation profile you can see that you can split this GFNY into 3 sections: the first section is made up of rolling hills, the second section is the flat out-and back section and then for the third section returning to the rolling hills for a second loop.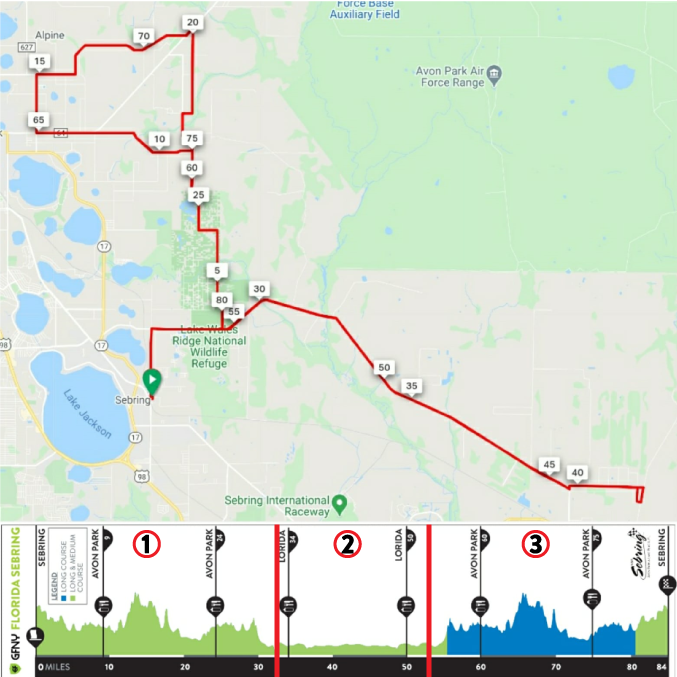 I know what you're thinking – isn't this Florida? Shouldn't this course be flat? Well – sort of, but really, no. Come on! It's just a few hills.
While 1,300 feet (400 m) of climbing over 84 miles isn't much, it's enough that you will want to pay attention to it, and know that you have to get through them twice. The first 30 miles (50 km) will be rolling hills, and because you are trying to break four hours, you will need to stay in the bunch through the rollers and try to save energy. It's important to keep your focus on eating and drinking (see the nutrition and hydration tips below). The ups and downs may make those wheels tough to follow. But follow them you must!
The second part of the course is a flat out-and-back section of 20 miles (32 km), and, like the rollers in the first 30 miles, it's important to keep your focus, and make sure you are not wasting your energy. Find those wheels, and stay on them! There will always be strong cyclists who would like to go for the win – if this is not your goal, just stay on the wheels, let them battle. Don't be fooled by the flat section – while there is no climbing here, the wind can work against you. If you get caught in a crosswind, the group can split, and you can be out in the cold and lose the group. Stay focused and hold those wheels.
After the flat 20 miles (32 km) the course will return to the finish via the same rolling hills you started out on. 30 miles (50km) to go to the finish. You will need to dig deep to stay with the group here and finish strong.
To achieve your goal of breaking 4 hours you will need to ride faster than 20.3 miles/ hour (32,5 km/h). That doesn't leave time for stops if you want to stay with the group. Make sure you have enough food and water with you to make it till the end. If you lose contact with the first group you may be outside of four. Between the rollers, the wind, and the rollers, and the likely speed of the front group as you roll from the start – the race will be "a tutta" or "all-out" as the Italians say. This will be a true test of your ability to leave it all on the course, GFNY style!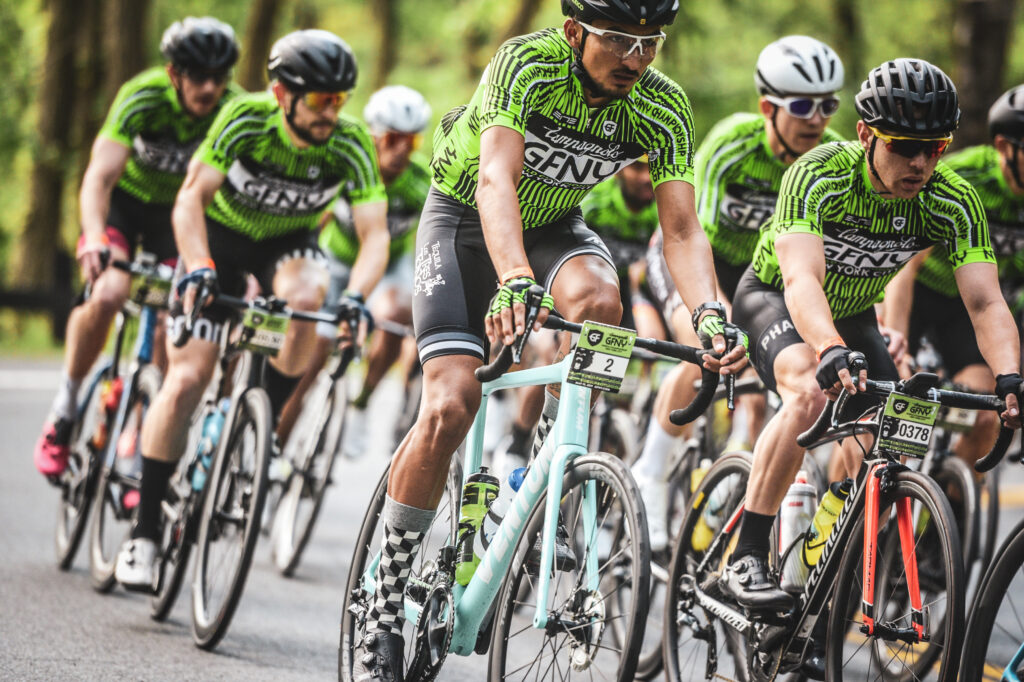 Finish GFNY Florida in less than 5 hours
If your goal is to finish GFNY Florida in less than 5 hours, you may be able to afford the luxury of a stop or two.  Again, we are thinking about the GFNY Florida course in 3 sections, 2 rolling sections and the flat section in the middle.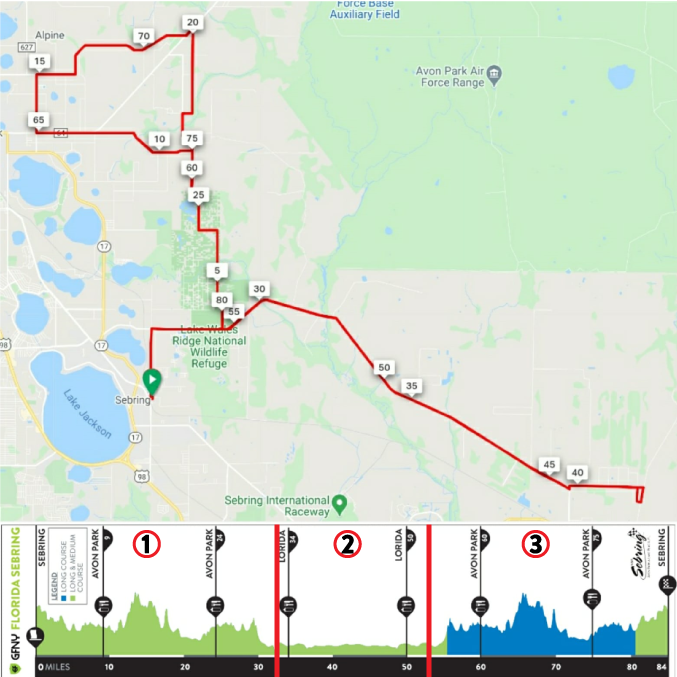 Speed is just a question of effort. How hard can you go? To break five hours you will want to get over the rolling hills with the first group (if you can stay on those wheels), and this will give you the time to be able to stop later during your GFNY if you need more nutrition or hydration. But if that first group is going too fast for you to hold on, don't worry, instead, try to find other riders who are riding at the same speed and ability as you and who will have the same goal. Work together with those groups. Do your share. Take your pulls at the front, and your recovery at the back, but hold on to those wheels to maximize your speed without blowing yourself up. Make sure that you have enough food and water with you from the start so you can cover the first 30 miles (50 km) without making a stop.
After the first rolling hills section, you can make your first stop, refill your bottles, grab, food, and get back on the road. Try to make your stop as short as possible. As you head into the next section, remember that it's 20 miles (32 km) of flat roads, but again, don't be fooled. If the winds are fierce, get your group organized and share the work. Try to recover during this section, and get your heart rate under control. Cover yourself for the crosswinds if it's windy. Don't waste any energy.
Before heading to the last part of the race, you can make another fast stop, fill your bottles up and eat something. This should be your last stop. Again – quick. Grab and go, pee and flee, get back on the road and remember that your goal is to beat five hours. You are back on the same rolling section as the first 30 miles (50km). Once you get to the rolling hills, try to gain speed and momentum on the downhills and pedal into each uphill with some speed. Using your momentum will help you fly over those rollers.
To achieve your goal of less than 5 hours, you will need to ride faster than 16.3 miles/ hour (26 km/h). This average is based without your stops. If you have 3 stops at 5 minutes per stop, you will need to ride 17.4 miles/ hour (27.8 km/h). So make those stops short.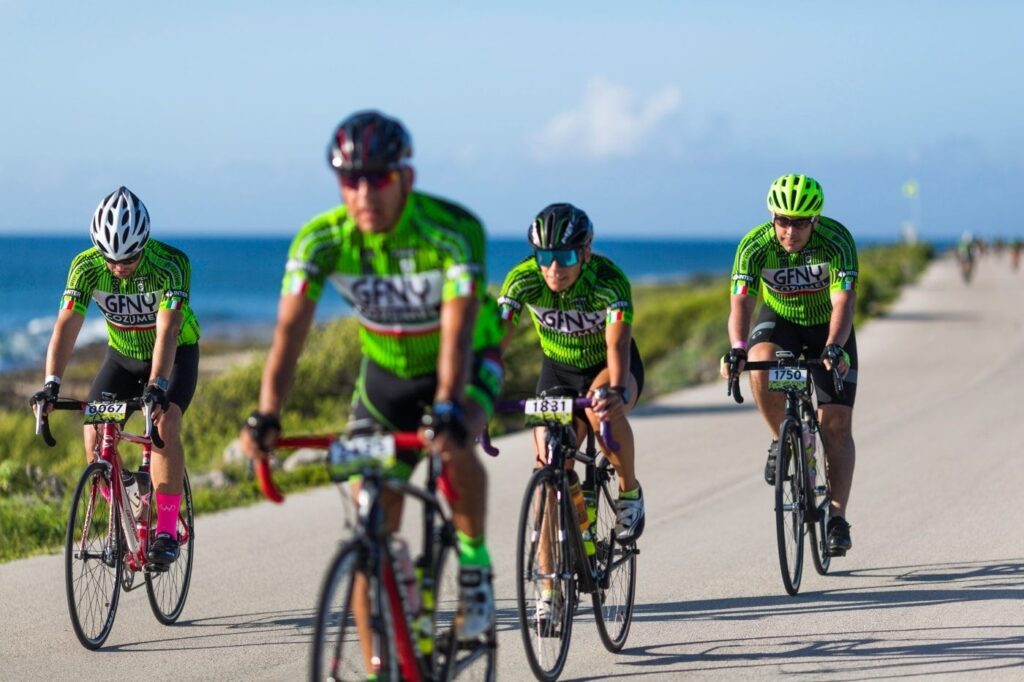 Finish GFNY Florida Sebring in 5 or More Hours
If your goal is to finish in between 5-6 hours, or just to finish GFNY Florida, you will be able to make several stops along the course. Finishing in more than 5 hours doesn't mean it's easy. It's important to find your own pace during the course, and to find riders that are going at your pace to work with. This is one of the best ways to make new friends while cycling. Sharing the effort, and sharing in the success at the finish. We again split the course in 3 sections, 2 sections with rolling hills and 1 flat section in the middle. The most important part of the race will be managing your nutrition and hydration during the entire race, and managing your effort to match your level of fitness and training.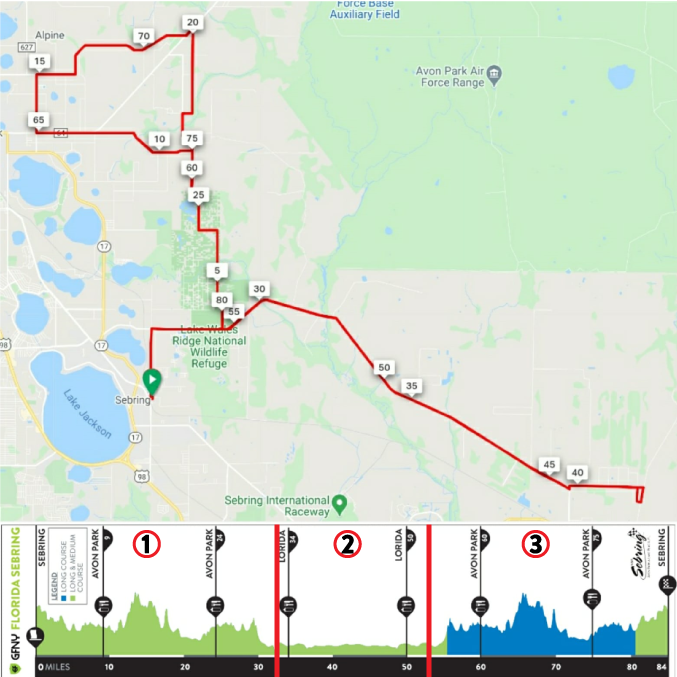 When you are on the northern loop with rolling hills, you will need to find your own pace and don't worry about what other riders are doing. Make sure you keep your heart rate under control. Recover when you go down hill, give your legs and lungs some rest. If you feel that you need a break, stop at an aid station, have some water and get something to eat. Try to keep your stop time short so that you stay motivated and keep your legs fresh. The longer you stop, the tougher it will be to get going again at your best pace.
The most important section may be the flat section in the middle of the course, this is the section where you will need to save your energy for the final rolling hills coming up in the 3rd section. For the final section ahead of the finish of your GFNY Florida Sebring, you will need to survive the rolling hills one more time. Just like the first time over the rollers, make sure you have control over your heart rate and use the down hills as recovery. Savor the accomplishment of your big finish as you cross the line and celebrate with friends, family, and other riders! You did it!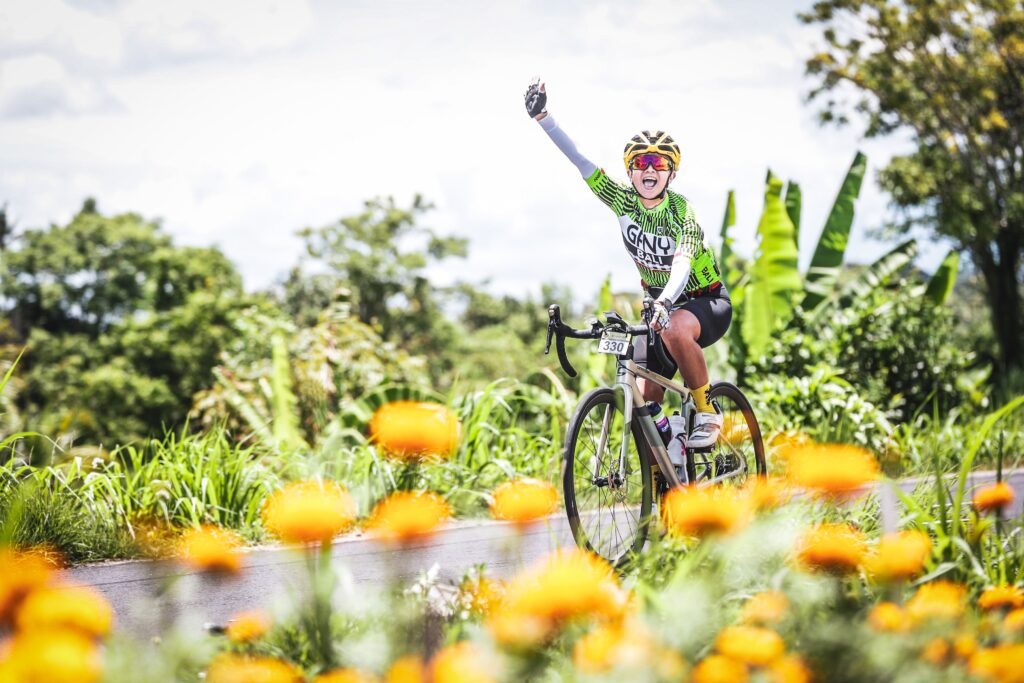 What to Eat and Drink During GFNY Florida
During an intense workout lasting longer than 60-90 minutes, it is recommended to replenish glycogen by absorbing 60-90 grams of carbohydrates (depending on your weight) per hour (partially through sports drink, partially through gels and bars) to slow down fatigue. A sports drink contains quickly absorbable carbohydrates that the body can use directly as an energy source.
Make sure you use big bottles (25oz/750ml) – you will get a commemorative GFNY Florida Sebring water bottle by Elite in your goodie bag, and if you need more, you can buy these bottles in the GFNY online store. The Elite GFNY bottle holds 25oz/750ml of liquid, and has an easy-to-use spout that makes hydrating while riding easy.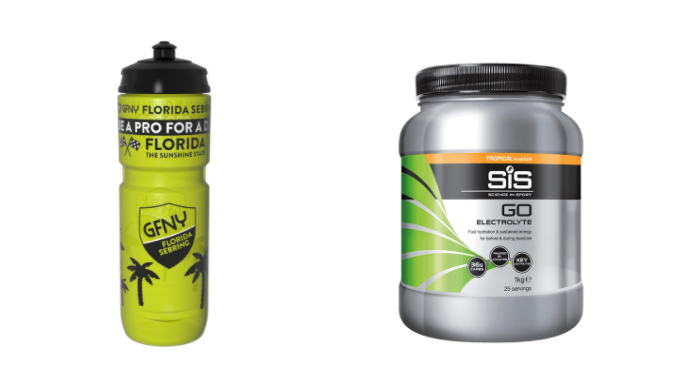 Instead of a sugary sports drink, we recommend the SIS GO Electrolyte mix, it's easily digestible and brings a quick supply of carbohydrates as well as electrolytes that promote optimal hydration. A bottle of 500ml of water and one serving/scoop of the SIS GO Electrolyte contains 36gr of carbohydrates. During an intense race like GFNY Florida Sebring, try to drink 1 bottle every hour, keeping in mind that you may need a little more hydration if it's hot out. This is already the half of the carbohydrates that you will need in one hour. Whatever products you decide to use on race day, make sure that you have used them before during training rides.
During the race, you can use SIS single serving tablets or sachets that are easy to take with you during your ride. Just take 2-3 sachets with you in your GFNY jersey pockets, so you can refill your bottles at the aid station with your own powder. Don't forget – wrappers for nutrition and hydration go in those side pockets on your jersey, or in an Eco Bin or Eco Zone at an aid station. Never on the course!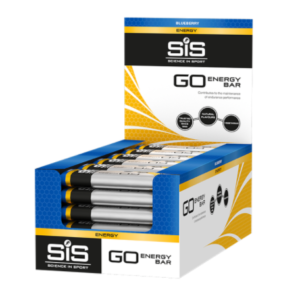 As you have read above, you are going to need around 60-90 gr of carbohydrate (depending on your weight) in total each hour. Assuming that you have already taken 36 grams of carbohydrates in your bottle, you will need to absorb the remaining carbohydrates through food. During the first hours of the race, you can do this by eating sports nutrition bars. The SIS GO energy bars provide 26 grams of carbohydrates per serving. To reach the necessary amount of carbohydrates in 1 hour you would need to eat 2 SIS GO energy bars and drink 1 bottle of SIS GO Electrolyte mixed with water.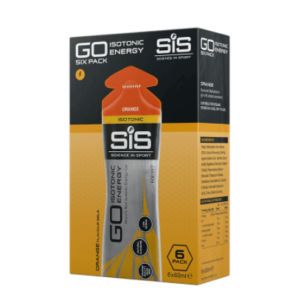 For the last part of your GFNY Florida Sebring, you will want to use gels instead of bars. The SIS GO isotonic energy gel gives you an easily digestible and quick supply of carbohydrates for energy during an intense effort, like a GFNY race. The SIS GO isotonic energy gel will provide you with 22 gr of carbohydrates per gel. You will need 1-3 gels and one bottle SIS GO Electrolyte per hour. Pack those jersey pockets accordingly.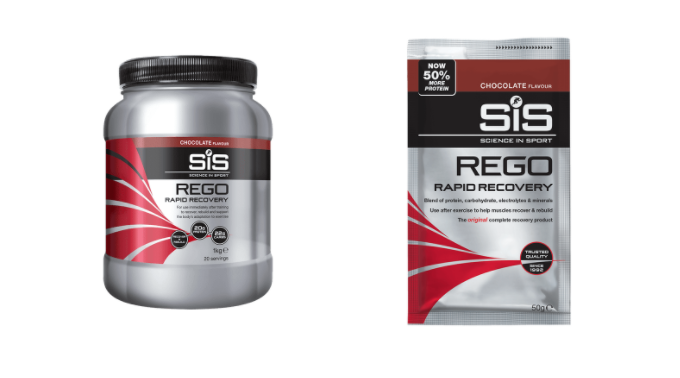 Recovery is critical to getting stronger. After finishing your GFNY Florida Sebring (or an intense training ride that gets you ready for race day), it's important to refuel, and one of the best ways to refuel can be with a recovery shake. A rapid replenishment of your glycogen stores and the addition of protein helps you to get the most from your ride. The SIS REGO rapid recovery contains a blend of 22 grams carbohydrates, 20 grams protein.plus electrolytes, vitamins, and minerals. SIS REGO recovery sachets are available for easy travel.
All SIS products come in a variety of flavors. Check out everything SIS has to offer on their website at https://www.scienceinsport.com