Santamaria defends his title at GFNY North American Championship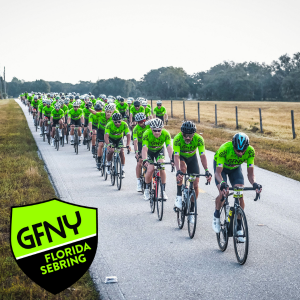 A thrilling sprint finish at GFNY Florida Sebring closes out the GFNY racing season in the US
After the GFNY Marathon debut last week, GFNY was back at cycling with the GFNY North America Championship race in Sebring, Florida.  Moderate Floridian temperatures and partly cloudy skies offered ideal racing conditions. 
The race started out fast with a peloton of about 150 riders forming quickly, followed by another large field of about 100 riders. At 40 km in, two riders attacked but their attempt was shut down soon after. Straight away, a new group formed and given the riders in it, it was apparent that this was the winning move. The group consisted of strong Colombians and GFNY regulars Erick Hamon and Ismael Collado, NYC Weather Channel's Luiz Lanfredi (BRA), 3-time Mexican Champ and Olympian Luis Lemus (MEX), defending champion Leon Santamaria (Miami), Samuel Torres and Nortton Sanchez.
The group held a 1-minute lead to the peloton for the remainder of the race. Attacks started to fire with 15km to go. As a result, it was Hamon, Lanfredi, Santamaria and Collado who sprinted for the win. Santamaria put himself in the best position around the last corner and defended his title in 3:28:15 with a great sprint. Collado Acosta took second and Lanfredi rounded out the podium. 
The women's competition was decided as part of the huge chase peloton: American Alejandra Echeverri took the win in 03:30:28 just ahead of Colombian Lina Catolico and Lina Catolico (USA).
With their overall wins, the champions earned a fully paid trip to the GFNY World Championship in New York City on May 15, 2022 where they will have to prove themselves on a very different course.
"The new course that included a lane closure on Route 66 worked out perfectly thanks to the great support of Highlands and Hardee County PD that made sure the racers had a safe race," said GFNY CEO and Race Director Uli Fluhme. "GFNY Florida is Florida's largest bike race since its first edition last year and is slated to become a GFNY classic. We can't wait to be back and finally welcome the eagerly awaiting Europeans to the peloton once travel bans are behind us."
Next up already this weekend is the with 3000 riders sold-out GFNY Cozumel in its 8th edition. 
About GFNY Global Endurance Sports Series
GFNY Global Endurance Sports Series is a sports event company with three decades of experience in racing, planning and organizing events. The global endurance sports brand hosts multiple events throughout the year around the world on five continents.
Working with partners around the world to deliver a first-class experience, GFNY Global Endurance Sports Series puts their athletes first.
Cycling
20 plus events around the world. View the 2021-2022 calendar here
Riders get to BE A PRO FOR A DAY ® by competing against others, themselves and the clock in a personal endurance challenge.
Top 10% (20% at regional championships) of finishers in each age group qualify for the Racer Corral at every GFNY World event.
GFNY World Championship NYC
The 10th annual GFNY World Championship New York will be held on May 15, 2022. The race features the world's most international peloton with riders from over 90 countries. Athletes take on a challenging 100-mile route from NYC to Bear Mountain to Fort Lee to compete against each other, the clock and themselves in a personal endurance challenge.
The official GFNY website is: www.gfny.com.
Further Material for Media Use
GFNY Florida Sebring video: here
GFNY Press Images: here 
GFNY Results: here
GFNY World calendar graphic: here
Previous GFNY press releases: here
Media Contact
Gran Fondo New York Inc.