The A Train Beckons…
by Chris Geiser
So you get home from the West Coast, and you are still up. And why not?! It's not even 10PM your time and you are raring to go. There is a nice post-plane dinner in the fridge (thanks Chaz!), and the Hulu Seinfeld loop is going. You start backing through this weeks email and you find this one:
"The Group Rides Are On!"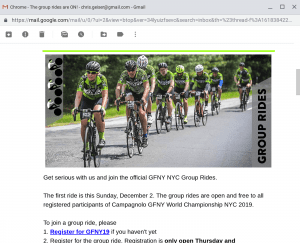 Oh right! It's December on Saturday and so it is now on. #GFNY2019TrainingSeason #BeReady2019. Be ready meaning two things
Be ready for GFNY Italia in March
Be ready for GFNY NYC Championship in May
And now for the sudden recall. Before everything went black in April, you vowed on your last group ride that "next week I am out with the damn A's! If I get dropped, I get dropped! That's how you learn to get faster!"So you reach out on the airplane wifi, to a friendly voice on the other end that knows of such things as riding A Trains, and yay, even driving A Trains, and you repeat those magic words!

The friendly voice of the A Train!
And the good advice is returned almost immediately. Positivity, encouragement, tactical intuition. "Hey buddy, this is how you do it! Welcome aboard"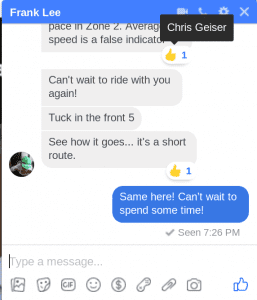 And so on Sunday we will know — how long can I hold the A Train! Tune in Sunday night to find out how it went!